Semyaza
Talk

0
62pages on
this wiki
Semyaza is the leader of the fallen angels. He was also an Elder of the Concil, and also the one who stole the Fruits of Wisdom.
He was greviously wounded during the fall and had to be confined in a life support system.
Chapter 11
Edit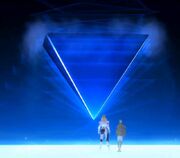 When
Enoch
and
Ishtar
unlocks his confinement,
Lucifel
reports to
God
that Semyaza was dead all along.
He probably told his last wishes to his right-hand man Azazel, knowing that he probably won't live much longer.