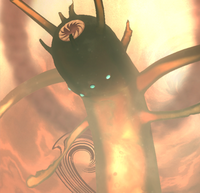 El Shaddai being delayed to August 16th isn't that bad at all. On the contrary, that means that we'll get even more details to get excited about! Today, Ignition released a new trailer for their upcoming action game El Shaddai: Ascension of the Metatron.
The trailer features several enemies including the Fire Nephilim (shown right) and Azazel, and what seems to be an amazing motorbike scene! Sounds good, doesn't it? You can view the trailer below, and don't forget to leave your opinion in the comments!
Ad blocker interference detected!
Wikia is a free-to-use site that makes money from advertising. We have a modified experience for viewers using ad blockers

Wikia is not accessible if you've made further modifications. Remove the custom ad blocker rule(s) and the page will load as expected.